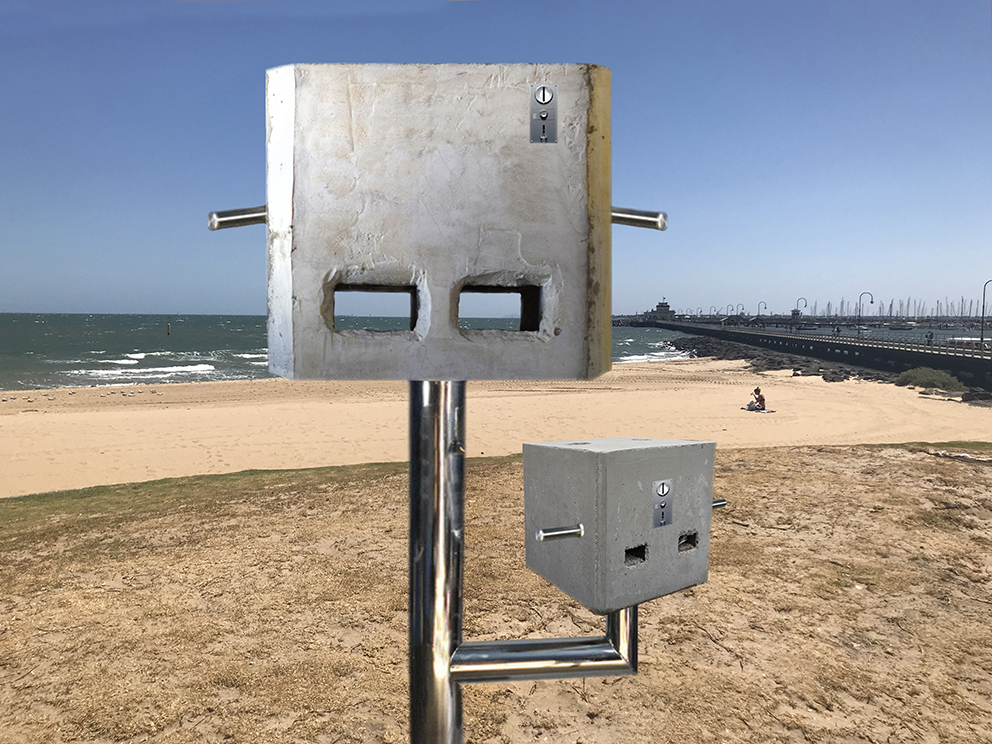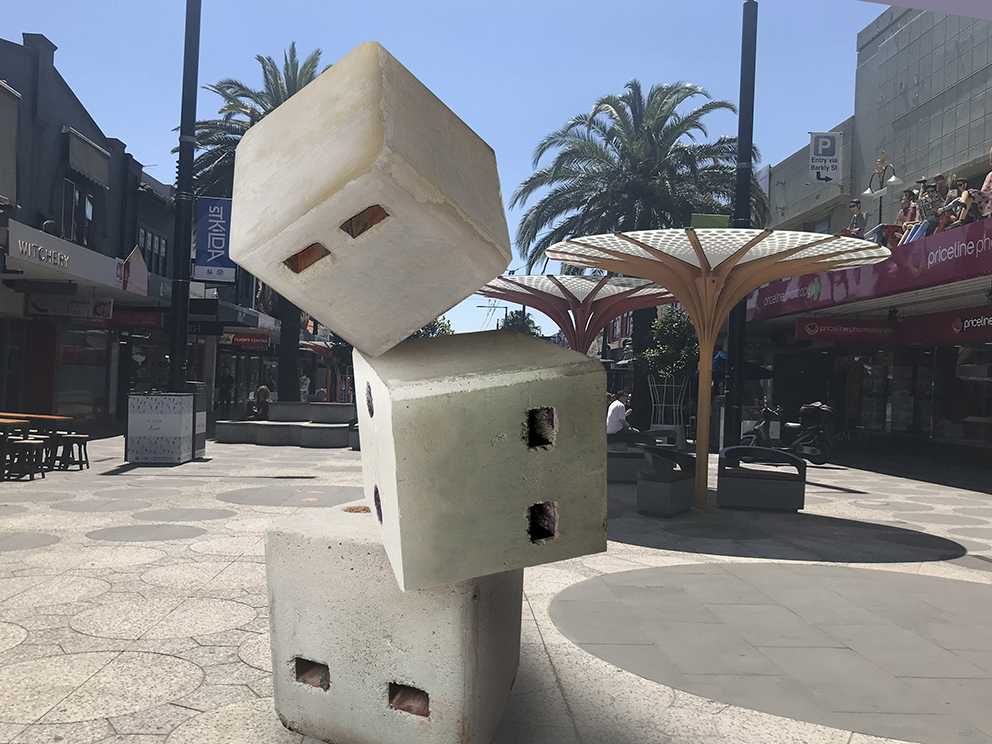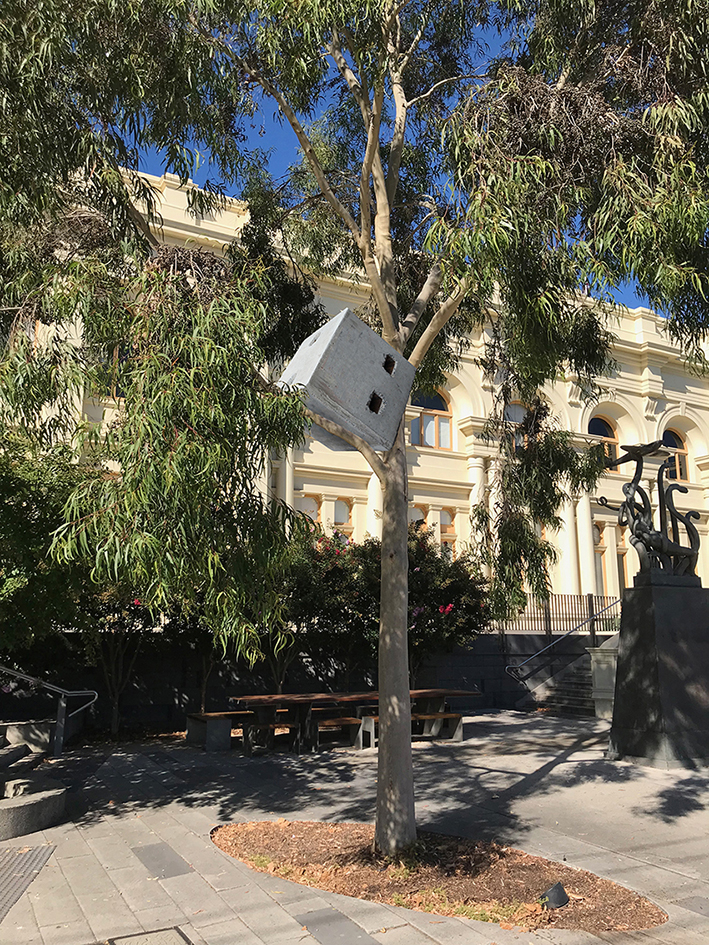 Blockage
Temporary public sculpture installation series in three locations:
SAFEGUARD at St Kilda Beach
BUILDING BLOCKS at Acland Plaza
BOLLARD UP THE TREE in front of St Kilda Town Hall
28th March – 17 May, 2019
The Sydney Morning Herald and The Age interview with Sumeyya Ilanbey:
https://www.smh.com.au/entertainment/art-and-design/a-bollard-up-a-tree-st-kilda-artist-reframes-symbols-of-terror-20190327-p5185s.html?fbclid=IwAR0aUGG3VAb3Q5tIYBiHDy0m8ghLuW9ALqqdONmMVcGVm4aWGVwhZe2HgIA
SBS radio interview with Olga Klepova:
https://www.sbs.com.au/yourlanguage/russian/en/audiotrack/anti-terror-concrete-bollards-given-new-meaning-nina-sanadze?language=en
Blockage performance collaboration with Dedicate:
Blockage opening speeches by City of Port Phillip Mayor Dick Gross and artist Nina Sanadze:
Artist talk & walk on 14 April 2019: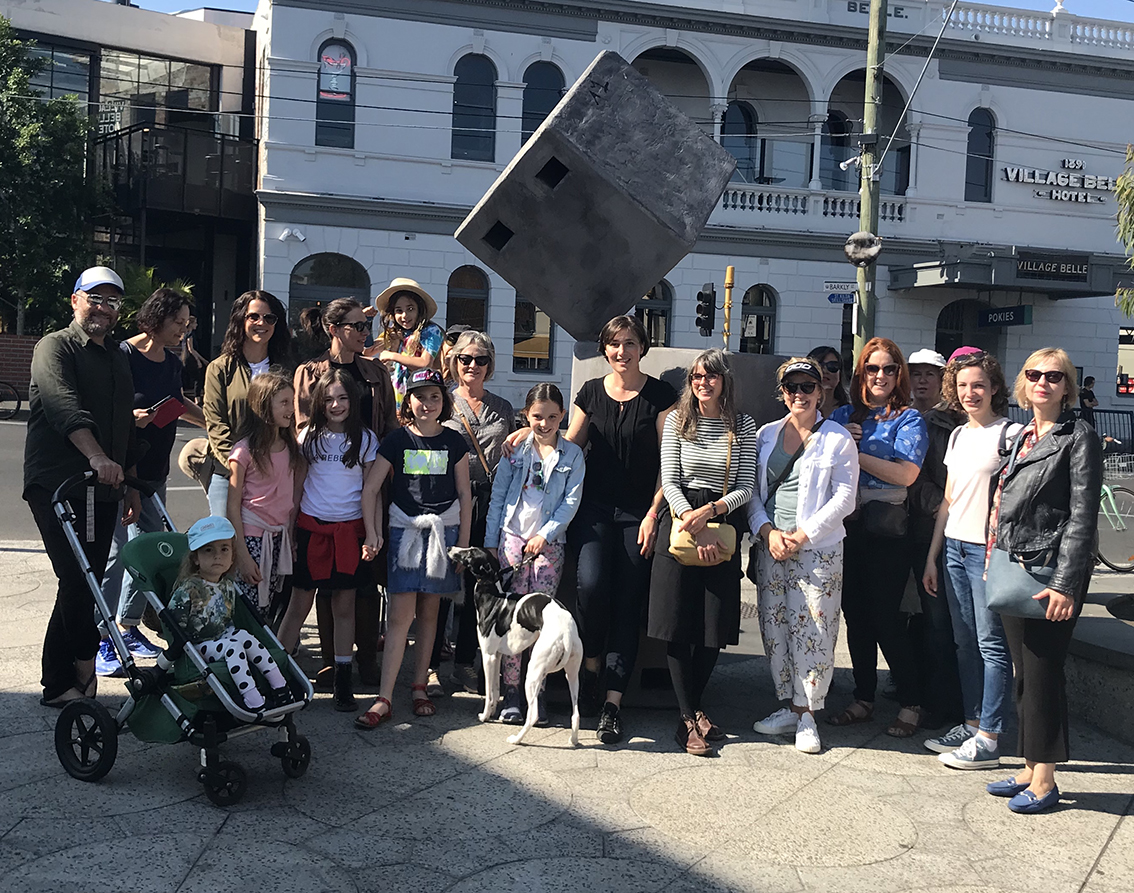 MEDIA RELEASE
There's nothing funny about terrorism! On the one hand concrete bollards serve as grave monuments to violence, and to ongoing terrorist threat. On the other hand, the three-tonne objects ironically have become omnipresent and invisible, steadily embedded into the logic of our architecture.
Blockage is a series of three temporary, public sculptural installations to be exhibited simultaneously in key locations throughout St Kilda from Thursday, 28th of March until Sunday 28th of April, 2019.
– Bollard Up a Tree, which makes a direct reference to John Kelly's Cow Up a Tree sculpture, as well as William Dobell's role of painting camouflage cows during WWII, will be installed on the live gumtree in front of St Kilda Town Hall.
– Building Blocks, three concrete bollards playfully levitating like toy blocks, will be erected at Acland Plaza.
– Safeguard, which operates as a pseudo coin-operated city viewfinder and a defunct surveillance apparatus, will be placed on St Kilda beach, between St Kilda Pier and the Beachcomber Cafe.
Blockage is the response of Georgian-born artist and St Kilda resident Nina Sanadze to the evocative hyper-visibility of global conflict the bollards represent. The installation series uses unexpected humour and a sense of lyrical play asking us to examine our assumptions about the social, political and material world. "Like the populist ideologies spreading throughout the world, bollards, barriers and walls incite fear and a loss of trust in communities," Sanadze said.
Startling, amusing and curious, the Blockage series aims to engage with the assumed heaviness of a concrete bollard in order to create an arresting but non-threatening illusion of uncertainty and disorientation. The artworks play with opposing notions of order and chaos, abstraction and representation, fact and fiction, animating these inanimate objects and engaging with pedestrians.
Contemporary global issues aside, Sanadze's raw reaction to Melbourne's bollards was triggered by personal experience. "Seeing the bollards in Melbourne brought back memories of civil war I lived through in Georgia as a teenager," Sanadze said. "I was very shaken by my experience of becoming a refugee in Moscow in 1992, so when we emigrated to Australia in 1996, I felt so safe and became a relaxed Australian. However, encountering bollards has shocked me out of my complacency."
Issues of terrorism and national security continue to dominate our politics and shape our society in numerous ways. In some ways the bollards are merely consciously brutalist symbols of more multi-faceted degrees of active fortification and heightened security. Do they suggest order or disorder, safety or danger, freedom or control, us or them, fake or real, true or false? Nina Sanadze ultimately invites viewers to reflect on the meaning of these now-ubiquitous forms as the physical manifestation of fears both real and imagined.
This project is supported by the City of Port Phillip Cultural Development Fund.